BeauSkin Organic Flawless Firming Cream
BREAK DOWN MARKS, SCARS & CELLULITE
WHILE RESTORING FIRMNESS TO YOUR SKIN!
The BeauSkin™ Organic Flawless Cream helps visibly improve skin elasticity and reduce the appearance of stretch marks during and after pregnancy or due to weight fluctuations. Check out the visible result from our happy customers!
Michelle Gabehart of age 27 submitted this photo on her journey with BeauSkin™ Organic Flawless Cream after using it for 1 month. Congrats on the success!
"Having 2 kids 53 weeks apart did a number on my stomach. I love my babies dearly and I'm proud of being a mom, but I'm also 27 and wanted my stomach back. Yes, I work out off and on. But no workout was taking those purple marks off my stomach. I've spent a lot of money trying different creams that didn't work. I'm thankful I found one that does!" - Michelle Gabehart 
Casey's 10 Weeks Stretch Marks Removal Results:
"I was searching and trying on body cream/ lotion /oil/ sheets that help restore and refresh my belly, from day to day I found this. The packaging of the product was very clean, you get what is advertised. It comes with very fine packaging and I already tried it. I notice it's incredibly moisturizing which I love."

"On my week 6! It made my skin soft and evened out my tone. The stretch marks are gradually removed now that even my husband noticed!  I've never experienced this before with other products! It's AMAZING!"

"It's very luxe for the price, easy to apply and smells naturally good. I have found that these are an instant AND long term remedy. Will definitely use this for a long time. Thank you so much!"
"I love BeauSkin™ because it has given me back my confidence after years of wasting money on products that didn't work." 
Consist of 2 Key Ingredients For Skin-Tightening:
Dimethicone
Matrixes 3000+ Complex
WHAT IS DIMETHICONE? SOMETHING YOU NEED TO KNOW ABOUT THE POWERFUL SKINCARE INGREDIENT
Dimethicone is the second most common moisturizing ingredient found in moisturizers after petrolatum, dimethicone helps condition the skin—improving its softness and flexibility. As for skincare, it makes the skin silky smooth, creates a subtle gloss and forms a protective barrier. Also, works well to fill in stretch marks and wrinkles and give skin a plump look. There are also scar treatment gels out there using dimethicone as their base ingredient. It helps to soften scars and increase their elasticity. 
Matrixyl 3000+ Complex penetrates deep into damaged skin and stimulates new collagen – a protein which makes skin appear plump and firm. It's all the rage in beauty circles, much in part because of a 2008 study stating, applying non-prescription Matrixyl 3000+ Complex to your skin caused a 60% reduction in stretch marks and wrinkles. Dr. Benjamin said this is why this cream is so effective. It was one of the few products on the market that had Matrixyl 3000+ Complex in the right consistency and dosage.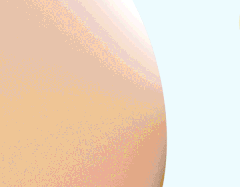 "Skincare products with Matrixes 3000+ can significantly reduced appearance of stretch marks with no side effects because it is not extracted from animals". - Dr. Benjamin. In clinical studies (72 hours with Matryxyl 3000+ 1%, 3% and 5%), Matrixes 3000+ was shown to: 
Increase overall collagen synthesis by up to 117%.
Increase collagen IV synthesis by up to 357%.
Increase hyaluronic Acid by up to 267%.
It also showed to reduce the surface area occupied by deep stretch marks by a mean of 78%.


What makes BeauKin™ special: 
5X more Collagen Strengthening than other similar products
Scientifically Smoother & Tighter Skin
Repairing & Moisturising at the same time
Reduce Appearance of Stretch Marks by a mean of 78%
Intensively repairs skin damage, soothes dry skin and keeps skin soft and supple.
81% of Mamas Say It Effectively Reduce Stretch Marks
Easy Application
Apply on target area & Massage gently
Daily use after shower
Apply at least 30 consecutive days for a complete treatment


SPECIFICATIONS
Net Weight: 50g
Usage: For all body parts except face area 
Ingredients: 

 

Hamamelis virginiana, Sodium hyaluronate, Wheat Germ, Refined olive pomace oil, SIMMONDSIA CHINENSIS, Avocado Extract, 

Dimethicone, Matrixes 3000+ Complex
Shipping Countries

Currently, we only ship to the United States, United Kingdom, France, Germany, Canada and Australia.

Shipping times
Processing and delivery times vary for each product and can be found on the respective product pages.

If you order products with different delivery times, we will ship them in multiple shipments so that you will receive them earlier. Shipping costs are calculated per order and not per product. Even if you receive more than one package, you do not need to pay any additional shipping costs.

Shipping Costs
| | | |
| --- | --- | --- |
| Billing rules | Project name | Cost |
| 0.00 - 29.99USD | Express Shipping (9-12 Days) | $5.99 |
| 29.99USD and up | Express Shipping (9-12 Days) | 0 |
| 0.00 - 29.98USD | VIP Shipping (5-9 Days) | $7.99 |
| 29.99USD and up | VIP Shipping (5-9 Days) | $4.99 |
If I don't have a PayPal account. How can I pay with a Credit Card?
Paying at PayPal without a PayPal account
Payments are made at PayPal, but you do not need to own a PayPal account to pay: just enter your credit card's data directly at PayPal and complete your payment. You don't need to register a PayPal account either.
1. Select your cart and click "check out". Fill in your shipping information and click "complete order".
2. In the pop-up window or paypal payment page, click the button on the image below.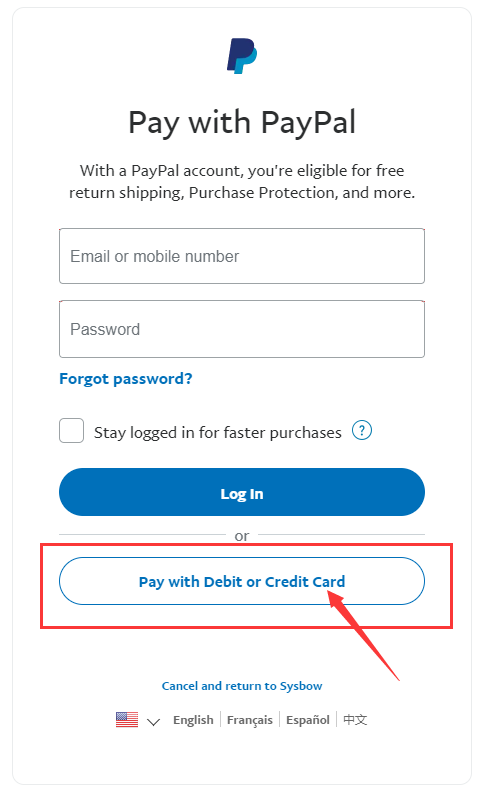 3. Choose your bank country, enter your bank card information.
Applicable Credit Card Types: American Express, Visa, Mastercard, Discover, Diners Club.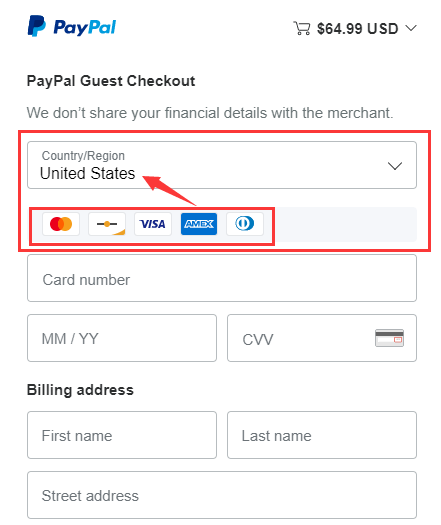 4. Choose " Continue as Guest" on the image as below.

5. Last Tip:
"Do you want to use this credit card to create a PayPal account?"
According to your needs, choose "yes" or "no".