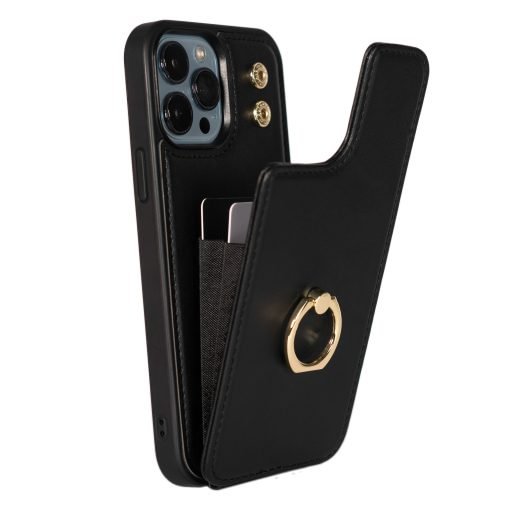 LIMITED-TIME ONLY-Buy 1 get 1 freefree delivery within the USA *Simply add
2 items to your cart and the discount will automatically apply
Card Holder Cases: High quality PU leather wallet case with 3 card slots hidden pocket for business cards, zipper bag for cash , bills, coins, magnetic clasp protect your cards well. All-in-one design can help you carry this case go outside without carrying your bulky wallet.

360°Rotating Ring Stand: The phone case with 360°rotating kickstand makes it convenient to watch videos and movies in a hand-free way. Ring stand of design which help you hold the phone firmly to prevent your phone from slipping.

Unique RFID Protective Design: The PU Leather Cover made of RFID Blocking material, RFID Technology can be used to read and copy your information data in the chips of your cards such as credit cards through radio signals, RFID protective design effectively avoid your card being stolen through your wallet case.

Full Protection: This phone case made of premium PC and high quality PU leather, with hybrid back case is durable enough and all four corners have hollow shock resistanceto protect camera and screen from bumps, scratches and occasional drops.

Here are six reasons why you should try out the Case

Keeps Your Cards Save

The patented cardholder on the back securely stores your credit cards, ID's and cash. The Case Fits over 8 cards. The RFID lining keeps your cards safe from theft.

Kickstand Ring

Use the ring as a stand to watch your favourite videos or have your hands free while facetiming your friends or family

Hand-Held Ring Design

The hand-held ring design makes long phone calls way more convienient and prevents damage by dropping your phone on the ground

Bump Up the Protection

The Case is drop tested from 6.6-feet, and made with shock-absorbing material.

RFID Blocking

The Patented RFID lining keeps your cards safe from skimmers.

Supports Wireless Charging!