Peppy Pet Ball Interactive Pet Ball
How To Keep Your Pets Stimulated, Healthy, and Strong While You're Away From Home!
The perfect solution for anyone who leaves their pets home alone all day!
IF YOU'RE A PET OWNER WITH AN ENERGETIC PET, YOU KNOW HOW DISASTROUS IT CAN BE LEAVING THEM HOME ALONE ALL DAY WITH NO WAY TO BURN OFF THEIR EXCESS ENERGY…
"I have a 5-month old boxer puppy who has energy for days. She gets really anxious when I'm gone, and the last time she got out of her cage she chewed up three pillows and two pairs of shoes!"
So what causes this destructive behavior?
Boredom! Because just like us, your pets can get a little stir crazy when they have nothing to do, no mental stimulation, and nobody to play with them for hours at a time.
And if your furry friend suffers from separation anxiety, then boredom and time alone can make it even worse. Because many animals will seek an outlet to relieve frustration from lack of attention and boredom, which often results in destructive behavior.
Whether it's a dog that chews on pillows and shoes, or a cat that knocks everything off the counters or unrolls the toilet paper for fun, the struggle is real when trying to keep your pets entertained while you're gone…
But there's great news!
Because it turns out, this destructive behavior is easily corrected…
You just need a simple way to help them burn off that excess energy and keep them entertained while you're away from home!
Fortunately, one American pet toy company has solved the problem with a genius invention which utilizes high tech 'intelligent companion' motion sensor technology to keep them entertained all day, yet without tiring them out to exhaustion.
And the best part?
It can keep them healthy and happy, stimulated and smart! It's called the Peppy Pet Ball, and it's the easiest way to keep your pets entertained when you're not home.
Here's how it works…
The Peppy Pet Ball is equipped with intelligent companion technology motion sensors, LED lights, and a 'smart programming chip' that alternates between rolling, stopping, and bouncing, always keeping our pet guessing what comes next.
Anytime your pet gets near it, the motion sensors trigger the lights to flash and the ball to roll or bounce, which taps into their natural instincts of hunting and playing to keep them healthy and active, even when you're not home. It's like a bouncy roly poly for pets!
Here's how it works…
Because our pets need exercise just like we do, but taking them for short walks before and after work simply aren't enough to keep them healthy, active, and strong. But now thanks to the Peppy Pet Ball they can play and exercise all day long and keep their furry paws off of your countertops, furniture, and shoes! How awesome is that!
"We have two cats and a dog and they usually fight with each other and jump all over everything when we're away at work, but now they play with each other instead! We thought they may like it, but this little ball is an overwhelming hit in our house!"

– Jennifer M. Boca Raton, FL.
Here are the features pet owners love most:
"My puppy LOVES this ball! He was a little nervous and barked at it in the beginning but now it's his favorite toy!"

– Samantha T.
Dogs and cats of all sizes love the Peppy Pet Ball!
See More: Nebula Flying Orb
Pet owners hate leaving their BFF's home all day with nothing to do, and now you don't have to, because with the Peppy Pet Ball they'll have a friend that's ready to play whenever they are all day long!
This sounds great! Where Can I Get One?
The Peppy Pet Ball is sold exclusively through their online store. It comes in 3 different packages with some bonus items, and right now the company is running a limited time offer where you can get it for 50% off!
But don't wait, because since going viral on social media, this genius invention is flying off the warehouse shelves. You can learn more about it here.
No Risk, 100% Exchange or Refund.
24/7/365 support care.
100% quality inspection on every order.
No surprises or hidden fees.
All orders are tracked from start to finish.
Shipping Countries

Currently, we only ship to the United States, United Kingdom, France, Germany, Canada and Australia.

Shipping times
Processing and delivery times vary for each product and can be found on the respective product pages.

If you order products with different delivery times, we will ship them in multiple shipments so that you will receive them earlier. Shipping costs are calculated per order and not per product. Even if you receive more than one package, you do not need to pay any additional shipping costs.

Shipping Costs
| | | |
| --- | --- | --- |
| Billing rules | Project name | Cost |
| 0.00 - 29.99USD | Express Shipping (9-12 Days) | $5.99 |
| 29.99USD and up | Express Shipping (9-12 Days) | 0 |
| 0.00 - 29.98USD | VIP Shipping (5-9 Days) | $7.99 |
| 29.99USD and up | VIP Shipping (5-9 Days) | $4.99 |
If I don't have a PayPal account. How can I pay with a Credit Card?
Paying at PayPal without a PayPal account
Payments are made at PayPal, but you do not need to own a PayPal account to pay: just enter your credit card's data directly at PayPal and complete your payment. You don't need to register a PayPal account either.
1. Select your cart and click "check out". Fill in your shipping information and click "complete order".
2. In the pop-up window or paypal payment page, click the button on the image below.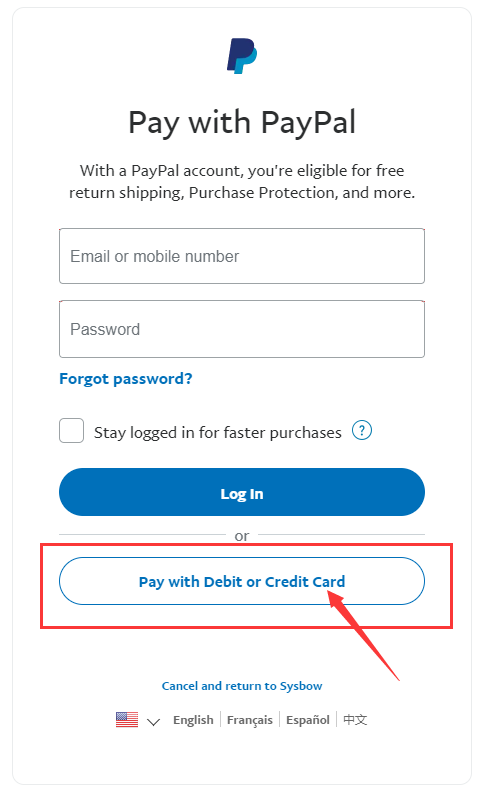 3. Choose your bank country, enter your bank card information.
Applicable Credit Card Types: American Express, Visa, Mastercard, Discover, Diners Club.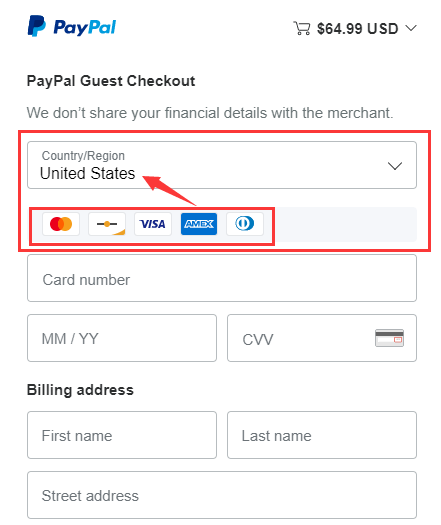 4. Choose " Continue as Guest" on the image as below.

5. Last Tip:
"Do you want to use this credit card to create a PayPal account?"
According to your needs, choose "yes" or "no".