The same relief you get at the chiropractor can be achieved in the comforts of your own home. The Portable Neck Massager uses effective TENS pulse principles to relieve you of your lingering neck pain, headaches, and migraines. 
It essentially provides miracle relief for your migraines and headaches, which can provide instant muscle and neck pain relief using heat and pulsation. Try it at home for 30 days and if you don't like it, return it for your money back. No questions asked.
✓ Premium Quality Design
✓ The #1 Original Personal Massager
✓ 30 Day Money-Back Guarantee
INSTANT Tension Headache Relief
IMPROVES Posture & Blood Flow
RELIEVES Muscle Tension/Neck Pain
ERGONOMIC Soft Design to Fit Everyone!
Not only does it offer instant relief, but you can see lasting results with consistent usage, unlike chiropractors that don't last long.
Best for people with
- Tension Headaches
- Pinched Nerves
- Muscle Strain
- Muscle Stiffness
- Neck Spasms
- Herniated Disks
Wear it at home relaxing, traveling, at the gym, at work, or even in the car!
Wear Portable Neck Massager for just 10 minutes a day for headache relief that can last the whole day...
NO MORE painful headaches, muscle stiffness & neck pain 
NO MORE expensive Chiropractor visits
NO MORE muscle tension, cervical pressure, stress, and anxiety
Not only does it offer instant relief, but you can see lasting results with consistent usage, 
Wear it at home relaxing, traveling, at the gym, at work, or even in the car!
Portable Neck Massager uses the TENS pulse to simulate the best massage techniques all in the comfort of your own home. By soothing and massaging your neck, this device will not only cure your tension headaches but give you relaxing deep muscle massages.
By improving blood flow and relaxing your muscles, your headaches will fade away.
Insufficient sleep, anxiety, stress, bad posture, neck muscle tension, and many others are all symptoms of tension headaches for both men and women. Portable Neck Massager will solve all these problems
Having your own personal massage therapist has never become easier!
15 Different Strength Settings-  to alleviate and get all types of neck pain and headaches with a comfortable experience!
3 Different Modes- Choose from massage mode, soothing mode, and acupuncture mode
If you find yourself with consistent tension headaches and neck muscle tension especially after work or from stress, Portable Neck Massager is right for you. Whether you're at the computer or even trying to relax in your bed, Portable Neck Massager will give you hours of bliss!
Take it anywhere, leave home, go to the gym, be at work, or even on a business trip!
Regardless of your age or neck size, Portable Neck Massager will be a comfortable fit for everyone!
Portable Neck Massager FAQS
Question: How Long does it take to get relief?
Answer: With Portable Neck Massager you will feel the results within 10 minutes of use with repeated use over time
Question: How long does the battery last?
Answer: A simple 2-hour charge will get you 15 minutes a day for up to a whole month!
Question: HOW TO OPERATE AND USE THE INTELLIGENT NECK MASSAGER?
Answer: 1. You must dampen your neck with a wet towel. Turning ON the massager by press and hold the power button for 2-3 seconds. Wait until you hear a beep to confirm the massager is ON.
2. Click on the "M" on the remote, then click the "+" button to select the massage mode.
3. Click on the "+" button for higher intensity and the "-" button for lower intensity.
Question: WHO IS NOT SUITABLE FOR OUR NECK MASSAGER?
Answer: We highly recommend that individuals with any preexisting health conditions are to contact their physician prior to using Neck Massager.
This recommendation applies to the following individuals including but not limited to:
-Pregnant women: Should avoid using TENS inside the abdominal and pelvic regions.
-People with epilepsy: Applying electrodes to the top or neck may also induce seizures.
-People with coronary heart problems.
-People with a pacemaker or every other sort of electric or metal implant.
Shipping Countries

Currently, we only ship to the United States, United Kingdom, France, Germany, Canada and Australia.

Shipping times
Processing and delivery times vary for each product and can be found on the respective product pages.

If you order products with different delivery times, we will ship them in multiple shipments so that you will receive them earlier. Shipping costs are calculated per order and not per product. Even if you receive more than one package, you do not need to pay any additional shipping costs.

Shipping Costs
| | | |
| --- | --- | --- |
| Billing rules | Project name | Cost |
| 0.00 - 29.99USD | Express Shipping (9-12 Days) | $5.99 |
| 29.99USD and up | Express Shipping (9-12 Days) | 0 |
| 0.00 - 29.98USD | VIP Shipping (5-9 Days) | $7.99 |
| 29.99USD and up | VIP Shipping (5-9 Days) | $4.99 |
If I don't have a PayPal account. How can I pay with a Credit Card?
Paying at PayPal without a PayPal account
Payments are made at PayPal, but you do not need to own a PayPal account to pay: just enter your credit card's data directly at PayPal and complete your payment. You don't need to register a PayPal account either.
1. Select your cart and click "check out". Fill in your shipping information and click "complete order".
2. In the pop-up window or paypal payment page, click the button on the image below.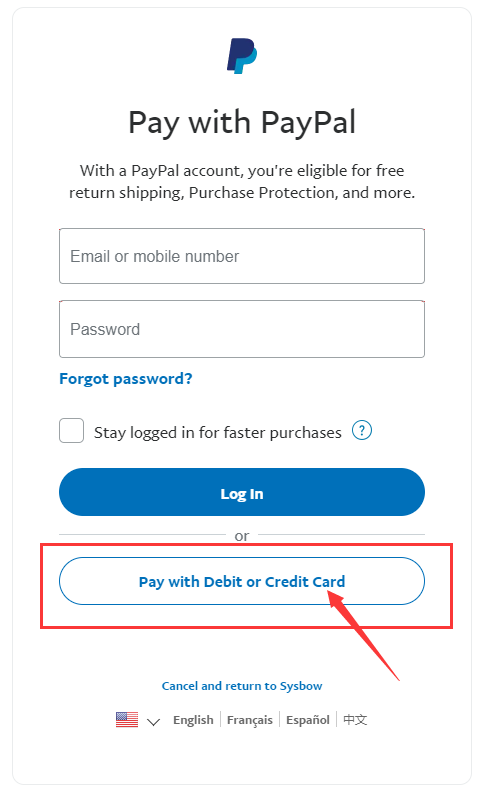 3. Choose your bank country, enter your bank card information.
Applicable Credit Card Types: American Express, Visa, Mastercard, Discover, Diners Club.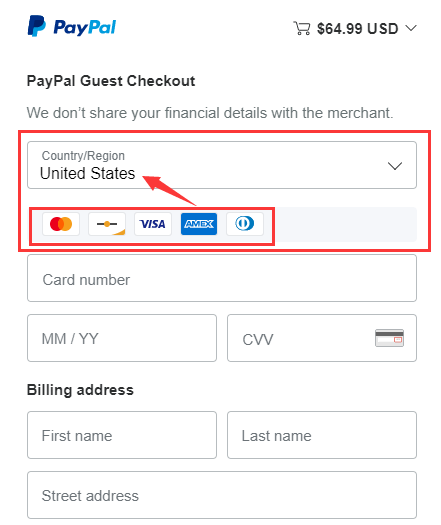 4. Choose " Continue as Guest" on the image as below.

5. Last Tip:
"Do you want to use this credit card to create a PayPal account?"
According to your needs, choose "yes" or "no".